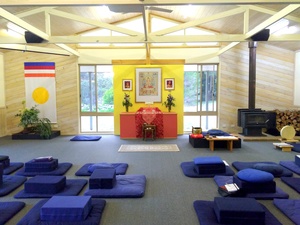 Australian Summer 2020 Meditation Retreat - Cultivating Sanity in Times of Uncertainty and Change, Weekthun B option
with Acharya Dale Asrael
WE ARE ON WAIT-LIST FOR THE WHOLE RETREAT. PLEASE EMAIL [email protected] TO JOIN THE WAIT-LIST.
A one-week retreat (Weekthun) is an introduction to and deepening of the mindfulness-awareness meditation technique. Doing this practice transforms how we relate to ourselves and everyday life by allowing us to get to know our mind and patterns.
The theme of the 2020 Retreat is "Cultivating sanity in times of uncertainty and change". Our senior teacher, Acharya Dale Asreal will draw on material from the three yana's, including, for example, development of ego, working with emotions, grounding everything in compassion to oneself and others and co-emergent wisdom.
We will explore the Shambhala principle of basic goodness -- that we are all, at the core, worthy and complete. Learning this principle is a journey whereby we make friends with who we are and draw out our inherent fearlessness. From this point of view, meditation is not a tool to fix ourselves or improve our abilities. Rather, it is a direct path to connecting with our fundamental wisdom. As the daily meditation practice and routine of this retreat unfolds, we will discover an atmosphere in which we can trust in the experience of truly feeling ourselves, the natural world, and human society.
Each day consists of a full schedule of sitting and walking meditation, qigong or other exercise, Buddhist chants, talks, contemplative meals and a short work session. Silence and functional speech are observed. The simplicity of the daily routine provides a welcome alternative to a world of speed and multi-tasking and, bit by bit, we become friends with the present moment.
Sample Schedule
7:00am Early Morning Practice Session
8:00am Breakfast
9:00am QiGong/Exercise
9.30am Morning Practice Session
12:30pm One bowl meal-style* Lunch
1:30pm Work Period
3:00pm Afternoon Practice Session
4:00pm Tea Break
4:30pm Late Afternoon Practice
6:00pm One bowl meal-style* Dinner
7:00pm Evening Practice Session
9:00pm End of Day
* One bowl meal synchronises mind and body by bringing mindfulness to how we eat.
Additional Information:
Participants may attend the weekthun A (8 nights, or first week), weekthun B (7 nights or the second week) or the half- dathün (15 nights). The full retreat fulfills the half-dathün practice requirement for the Shambhala Buddhist path.
The retreat is open to new and experienced meditators. If you are new to meditation, you will have the opportunity to speak with a teacher or meditation instructor before the retreat to find out more about what to expect.
---
Teacher
Acharya Dale Asrael
Dale is an Acharya (Senior Teacher) in the Shambhala lineage. She became a student of the founder of Shambhala, Chögyam Trungpa Rinpoche in 1973, and worked closely with him for several years, and then became a student of the current leader, Sakyong Mipham Rinpoche. She has taught in the field of contemplative education for more than thirty-five years, and is an Associate Professor at Naropa University, in the Mindfulness-based Transpersonal Counselling Psychology and Master of Divinity programs. She is the founder and teacher of Naropa's Mindfulness Instructor Training program.
In addition to her teaching at Naropa, she leads meditation retreats and dharma programs internationally, and trains meditation instructors. Dale is a practitioner of the ancient contemplative body-mind practice QiGong and has been appointed to teach in the Xiantianwujimen and Yiquan lineages by Daoist lineage holder, Eva Wong.
Pricing
Program fee includes all food. Food preferences are taken into account as far as possible, and meat, vegetarian, and vegan options are available. Accommodation is a separate charge (see below).
| | | |
| --- | --- | --- |
| | Full Fee | Concession* |
| Half Dathun 15 days | $1503 | $1256 |
| Weekthun A: 8 days | $804 | $670 |
| Weekthun B: 7 days | $704 | $586 |
*Concession fees are intended for people who are full-time students, on pensions/health care cards or on low income (under $44,000, i.e. 80% of 2018 median Australian wage).
Heart Gift
It is traditional for students to offer a monetary gift to the teacher in appreciation for receiving the teachings, and in recognition of the years of training and understanding the teacher has cultivated. There will be an opportunity to offer a heart gift at the program.
---
Accommodation
Accommodation is available in shared dorm rooms, single rooms, or single ensuites.
Single ensuite rooms are limited and will be assigned on a first come, first served basis, with preference given to participants attending the full half- dathün. Reservation of an ensuite room requires a 50% deposit toward accommodation.
Students are requested to bring their own bedding. Laundry facilities are available. Students who are able may wish to bring a small electric fan and a bedside lamp.
If bringing your own bedding is not possible (particularly for international travellers) please let us know at registration and we will aim to make other suitable arrangements.
Limited camping and caravan sites are also available, and are charged at the shared room rate per person.
| | | | |
| --- | --- | --- | --- |
| | Shared room | Single | Ensuite |
| Half Dathün 15 nights | $405 | $450 | $600 |
| Weekthun A: 8 nights | $216 | $240 | $320 |
| Weekthun B: 7 nights | $187 | $210 | $280 |
---
About the Venue
The half-dathün will take place at a peaceful residential retreat centre outside of Euroa, Victoria, 1.5 hours north-east of Melbourne at the foot of the Strathbogie ranges.
The closest airport is Tullamarine in Melbourne. There is also a train station at Euroa.
If you are planning to fly into Melbourne the morning of the 11th, you are advised to arrive no later than mid-morning to allow transport time to the retreat centre.
---
Materials for the retreat
Study Materials: $ to be advised.
---
Payment
Registration for the weekthun A or B requires a deposit of AUD$100.
Full payment is required by no later than 30 November unless other arrangements have been agreed.
Deposits are non-refundable after 30 November except in exceptional circumstances.
Program fees are non-refundable after 20 December except in exceptional circumstances.
Please pay by Electronic Funds Transfer (EFT) payment to our bank account.
Account Name: Shambhala Australia
BSB: 033 686
Account Number: 559490
Use 'Yourname7' as the payment reference.
(Please note this program is hosted by Shambhala Australia and this account is the Australian account. Please disregard the Melbourne account information on the registration page).
Credit card payments will be processed through paypal and will incur an additional fee. If you would prefer to pay by credit card, please contact Sue DiPietro ([email protected]) to receive an invoice and Paypal details.
---
Financial Assistance
We endeavor to make Shambhala programs accessible to people in all circumstances. We can offer options for overcoming financial obstacles, including payments plans that spread the cost over time.
Please contact Jeff Herd at [email protected] for more information about payment plans or financial assistance to attend the program.
Registration
Please note that there are separate registration pages for the 15 night half-dathün and 8 night weekthün A and the 7 night weekthun B.
You are on the weekthun B registration page.

After you have registered, we will contact you by email for more information about your meditation practice and any health conditions that might affect your participation.
In the meantime, for queries regarding venue, transport, accommodation or the program, please contact Jeff Herd at [email protected]