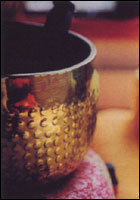 Shambhala Meditation Afternoon every Third Sunday of the Month
Join us for an afternoon of sitting and walking meditation, dharma text study or a short talk, and a friendly cuppa, in the Shambhala tradition on the third Sunday of each month from February, from 2-5pm.
These commence on Sunday 16th of February. The other dates for our Sundays are: 15 March, 19 April, 17 May, 21 June, 19 July, 16 August, 20 September, 18 October and 15 November.
The fees for Sundays are $15 full price; $10 concession.
One to one meditation instruction will be available.
Our venue is the Eco-House at Ceres in Brunswick. You can find the Eco-House at the end of Lee Street, Brunswick through the metal bollards and it is the white house set back from the road on your right.
If you have any questions, please contact Jeff Herd on [email protected] or 0457 056 601.