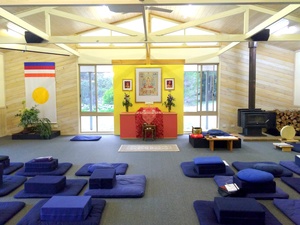 Shambhala Australia Online Weekend Retreat 1-3 January 2021: Opening to ourselves and the world as we are
with Margaret Hughes & Charlotte Brookes
Shambhala Australia Community Practice Gathering
Online weekthün retreat 1-8 January 2021 on Zoom
'Opening to the world and ourselves as we are'
WEEKEND OPTION 1-3 January.
A one-week retreat – called a weekthün - is an introduction to and deepening of the mindfulness-awareness meditation technique. Doing this practice transforms how we relate to ourselves and everyday life by allowing us to get to know and connect more fully with our mind and patterns, and the world around us.
In the midst of the incredible challenges of this year it is tempting to respond by distracting ourselves through busyness or constant entertainment, or to numb out to the realities we face.
Practicing meditation is instead a moment-to-moment decision to face toward our experience. By training in opening to ourselves and our world- and cultivating curiosity, bravery and gentleness toward whatever we find- we discover possibilities even in the midst of challenge.
We begin to contact a quality of basic sanity in ourselves and our world which is available when we slow down and pay deeper attention.
From this point of view, meditation is not a tool to fix ourselves or improve our abilities. Rather, it is a direct path to connecting with our fundamental wisdom, and the inherent intelligence and warmth of the bigger world with whom we are a part.
When we open to ourselves and our world, we are more able to respond skilfully to the challenging situations we face, and also appreciate the brilliance of our shared existence.
To maximise accessibility, we are offering the option of attending for the weekend of 1-3 January.
At home alone together
We will keep a traditional retreat schedule, including Buddhist chants, sitting and walking meditation, dharma talks, one-on-one conversation with a meditation instructor, silence practice, and body practices such as shamatha yoga and walks outside.
This retreat will also incorporate opportunities to connect with each other through smaller discussion and study groups and informal catch-ups.
Although this retreat is being offered online we will include plenty of opportunities for offline practice within an ongoing retreat container.
We also recognise that many of you will be participating in retreat within households which are not in retreat. We will therefore limit instruction, dharma talks, and most interactive elements of the program to the morning and afternoon session, to accommodate people who need to re-enter their household in the early morning or evening.
Following registration, we will offer more information about how to effectively engage in the online retreat environment and create a conducive situation in your home.
Sample Schedule (times are Australian Eastern Daylight Time)
7:00am Early Morning Practice Session and Chants
8:00am Breakfast
9.30am Morning Practice Session
12:30pm Lunch
2:30pm Afternoon Practice Session
5:30pm Dinner
7:00pm Evening Practice Session and Closing Chants
8:00pm End of Day
Participants may attend the weekend (1-3 January) or the whole weekthün (1-8 January). The first day will be a short early evening session.
The retreat is open to new and experienced meditators. If you are new to meditation, you will have the opportunity to speak with a teacher or meditation instructor before the retreat to find out more about what to expect and to receive some initial instruction.
Materials for the retreat
The recommended reading during the retreat is Welcoming the Unwelcome by Pema Chödrön. (Available in hard copy and as an e-book).
Teachers
Our teachers will be Margaret Hughes and Charlotte (Chuckie) Brookes.
Margaret has been studying and practicing meditation for over 20 years, and within the Shambhala tradition since 2007. Her professional work is in the area of youth and community development, and community alternatives to the dominant justice system.
Charlotte has been practicing within the Shambhala tradition since 2005. She is a screen-writer and scenic artist. Charlotte founded the Northern Rivers Shambhala Group in 2009 and served as Coordinator of the group until 2018. Charlotte and Margaret live in Bundjalung Country on the North Coast of New South Wales with their six-year-old daughter Bodelia and puppy Zoe.
Pricing
| | | |
| --- | --- | --- |
| | Full Fee | Concession* |
| Weekend | $50 | $30 |
| Weekthün | $120 | $80 |
| | | |
*Concession fees are intended for people who are full-time students, on pensions/health care cards or on low income (under $40,000, i.e. 80% of 2019 median Australian wage).
Payment is required by no later than 10 December unless other arrangements have been agreed.
Please pay by Electronic Funds Transfer (EFT) payment to our bank account.
Account Name: Shambhala Australia
BSB: 033 686
Account Number: 559490
Use 'Yourname21' as the payment reference.
(Please note this program is hosted by Shambhala Australia and this account is the Australian account. Please disregard the Melbourne account information on the registration page).
Credit card payments will be processed through paypal and will incur an additional fee. If you would prefer to pay by credit card, please contact [email protected] to receive an invoice and Paypal details.
Financial Assistance
We endeavor to make Shambhala programs accessible to people in all circumstances.
Please contact Jeff Herd at [email protected] for more information about payment plans or financial assistance to attend the program.
Registration
There are separate registration pages to the 8 day weekthun and the weekend option. You are on the 3 day weekend registration page.
After you have registered, we will contact you by email for more information about your meditation practice and any health conditions that might affect your participation.
In the meantime, for queries regarding the program, please contact Jeff Herd at [email protected]