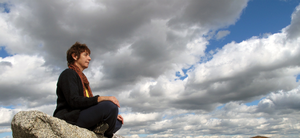 Monthly Sunday Afternoon sit
Every third Sunday afternoon of the month, we gather at our lovely venue at the Eco-house, Ceres in Brunswick for an afternoon of sitting and walking meditation, social chat over a cuppa and reading and discussion.
We will be dipping into Pema Chodron's The Places That Scare You for readings and open discussion, where questions and wisdom are shared between all participants.
Our dates are: 19 June; 17 July; 21 August; 18 September; 16 October and 20 November. The sessions run from 2-5pm.
Newcomers to meditation are welcome and initial meditation instruction is available either on the spot or through zoom.
Our open houses are covid-safe. Face to face participation will required you to be fully vaxxed or show a medical exemption. Please don't attend if you have flu-like symptoms, have been tested for COVID and are waiting for the results OR have been in contact with a person who's had a confirmed case of COVID 19. Please carry a mask.
The address is the Eco-House, Ceres, at the end of Lee Street, Brunswick (through the metal bollards and its the white house on your right).
Fees for each class are $15 full price, and $12 concession; this helps us cover our rental costs.
For further information and inquiries, please contact Jeff on [email protected] or on mobile 0457056601.